2013 Summer Camps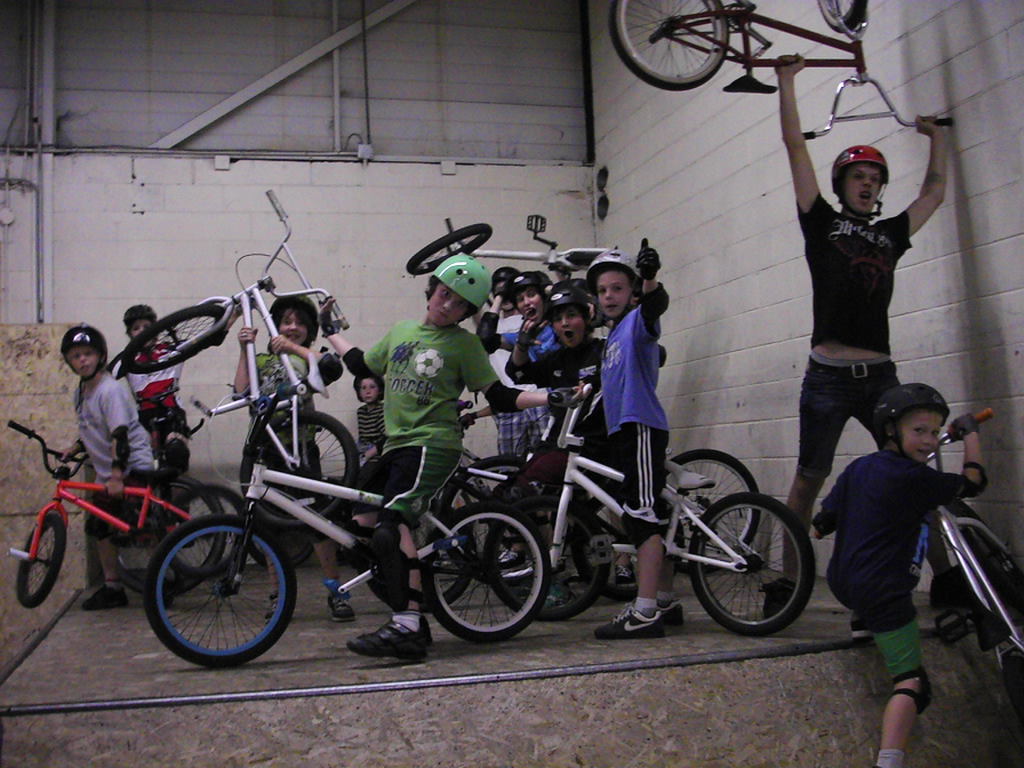 Thanks to everyone who took part in our 2012 Summer Camps – they were booked solid all summer. We hope everyone had as much fun as we did. Check out the SUMMER CAMP VIDEOS (courtesy Ben Janacek).
We had SO much fun, in fact, that we are already looking ahead to this summer!
9 Sessions Available:  starting July 2nd
Sessions are 1 week each:
*Monday-Friday, 9:00am-4:00pm
*(holiday weeks are Tuesday-Friday and offered at a 20% discount)
Give Your Kids a Unique Summer Camp Experience
Ride Joyride150 for friendship & fun…while building self-esteem and learning new skills.  Joyride150 has three programs tailored to specific skill levels:
JOYRIDER 1:   $379/wk +tax
An introductory program geared towards riders 9 years of age and under with an emphasis on having fun and becoming a more confident bike rider. Elementary instruction will be supported by organized riding activities and free time.
JOYRIDER 2:   $379/wk +tax
A more performance oriented program that combines instruction and practice sessions. Lessons include basic bike maintenance, park riding etiquette, basic skills (smaller drop ins, fly outs, jumping, bunny hops, etc.), and basic tricks (tail taps, one footers/ handers, x-ups, stalls, fly out 180/360, etc.) Recommended for ages 10 -15.
JOYRIDER 3:   $379/wk +tax
A targeted performance program that aims to improve & enhance existing riding skills through instruction and practice session s. Lessons include intermediate bike maintenance, park etiquette refresher, intermediate skills (larger drop ins, jump lines, sp ines, transfers, quarter pipe, etc.), and intermediate tricks (no footers/handers, bunny hop 180/360, foot jams, no footed can -cans, tables, turndowns, etc.) Recommended for ages 10-15.
Optional Packages: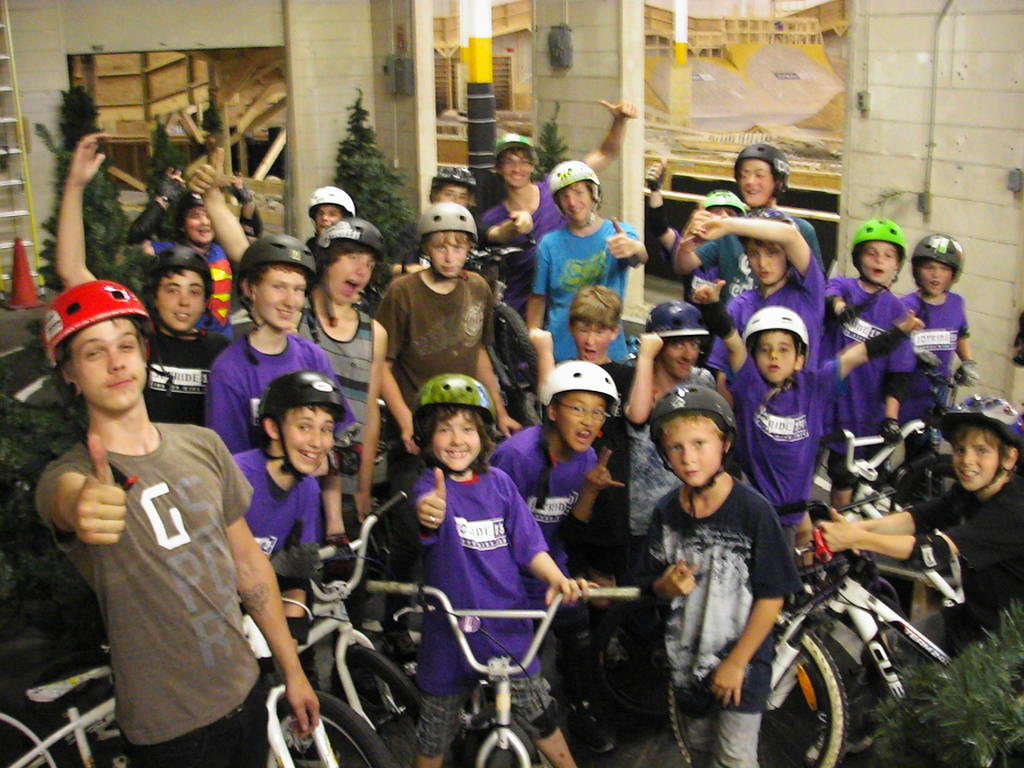 Lunch Package - $48/wk + tax
A healthy lunch consisting of a sandwich, one piece of fruit (apple, banana, etc.), one treat (cookie, brownie, etc.), and a drink.
Bike Rental Package - $60/wk + tax
Limited bike rentals available (depending on session dates). Bringing a bike is highly recommended.
Early Drop-Off or Late Pick-Up - $20/wk + tax 
Helmets, knee+elbow padding, and gloves are MANDATORY for camp sessions. Padding & gloves are available for purchase at Joyride150 for reasonable prices.
NO RENTALS AVAILABLE for helmets/padding/gloves during camps.
*NEW MEMBERS: If you are new to Joyride, a completed waiver must be included with your registration form. It must be signed by the camper's own parent – OTHER ADULTS CANNOT SIGN FOR SOMEONE ELSE'S CHILD. Click the link below to download the waiver:
JOYRIDE150 Waiver
---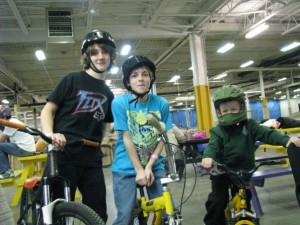 After-School Programs – REGISTRATION NOW OPEN!
Want something fun to do after school?   Why not go to Joyride???  Afterschool programs are starting soon…so get your registration in ASAP!!!    For more info, click on our flyer: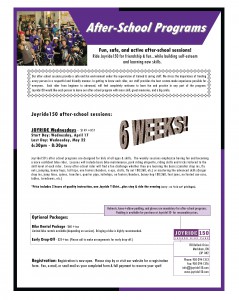 Wednesday Nights 
6:30pm – 8:30pm 
April 17 – May 22, 2013
$149 +tax
JOYRIDE150 Waiver