OK, so you wanna come ride here.  Well there are a few things you should know before you come that will make your experience a whole lot better…
WHAT TO EXPECT WHEN YOU ARRIVE:
Registration Steps
Step 1: Sign a Waiver
-you will need to fill out our waiver and
initial each page
(print & fill out the
online waiver
at home to decrease your time in line and increase your time on the bike!) -PLEASE FILL IT OUT COMPLETELY…it will save time and people waiting in line won't get annoyed with you! -if you are under age 18, you will need your parent to sign your waiver –
NO EXCEPTIONS!
(***Other adults cannot sign your waiver – it must be your parent).  
Either bring a parent with you to sign or print out the
online waiver
at home, have your parent sign it, and bring the signed waiver in with you. 
Step 2: Photo Taken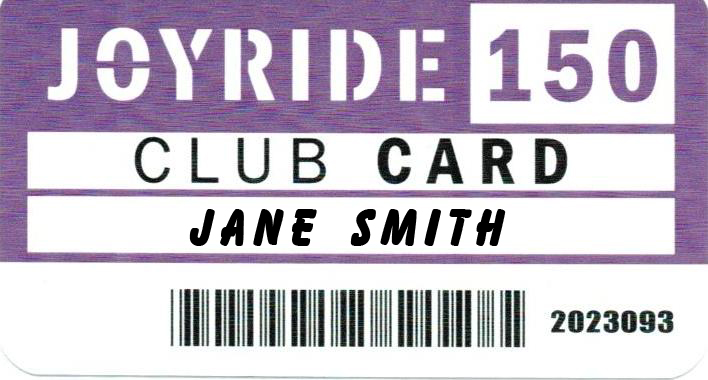 - have your picture taken for your park registration -everyone gets a Joyride Club Card that you must bring with you every time you visit -your card gets you through registration quickly next time you come (that way we don't have to manually leaf through the filing cabinet for your signed waiver)   ***THIS CARD CONFIRMS THAT YOU HAVE A WAIVER ON FILE WITH US  – PLEASE BRING IT WITH YOU EVERY TIME YOU VISIT!!!***   -club cards never expire and you do not need to fill out a new waiver on any subsequent visits once you have a club card 
Step 3: Payment
-the first time you come you will be asked to pay a member registration fee (1st-time only) of $5.00.  This is for the waiver, photo, file processing, and your club card. -pay for your riding…either buy a Day pass, a 2-Day Weekend pass (Sat + Sun), a 3-Day Weekend pass (Fri + Sat + Sun), a 6-Month pass, or an Annual pass. -we accept CASH, INTERAC (debit), VISA, or MASTERCARD
Step 4: Ride!!!!!!!!!!!!!!!!!!!!!!!!!
———————————–
GENERAL:
WHERE ARE YOU LOCATED?
-We are located at 150 Bullock Drive in Markham, Ontario.  For a map and directions, see our Location/Hours page.
WHAT ARE YOUR HOURS? 
 -Please see our Location/Hours page. 
IS THERE PARKING? 
-Yes.  There is free parking in our 2 lots.  There is a smaller east-side lot (near the purple door entrance) and there is an additional, larger lot across the south (front) of the building.  Please park in properly designated spots only. 
RIDING:
WHAT KIND OF EQUIPMENT IS REQUIRED TO RIDE AT THE PARK? 
-In order to ride at the park you need a bike and a helmet.
ARE SKATEBOARDS/SCOOTERS ALLOWED?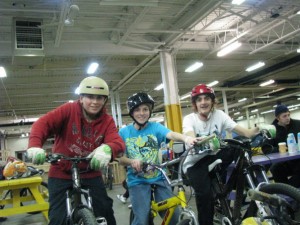 -No.  Joyride 150 is open to bicycles only.
WHAT KINDS OF BIKES ARE ALOWED?
-If you can ride it, you can bring it!  
WHAT LEVEL OF RIDING SKILL IS REQUIRED? 
 -There is something for riders of all levels at Joyride 150…from beginners to experts.  Sections, trails, lines & jumps will all be marked according to the ski trail system: GREEN CIRCLE for beginner, BLUE SQUARE for intermediate, and BLACK DIAMOND for expert.  We expect that you will use good judgement and ride within your skill level.
ARE THERE RENTALS AVAILABLE? 
-Yes.  You can rent bikes (BMX, DJ, XC, All-Mountain), helmets, and padding for a small fee.  See our Rentals / Services page for more details.
-You can also rent out our private room for your birthday party, corporate function or meeting.  Please see our Rentals / Services page for more details.
FACILITIES:
WHAT IS THERE TO RIDE AT JOYRIDE 150? 
-There is 90,000sqft of fun!  Check out our Bike Park/Course Map page for more details about the specific areas of the park.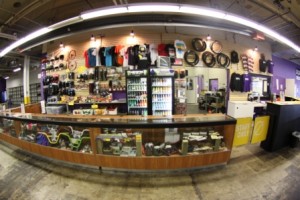 IS THERE FOOD AVAILABLE?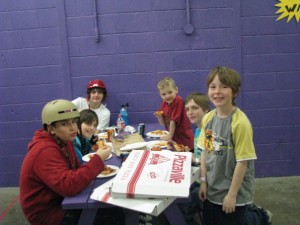 -Yes.  There are concessions available with snacks &  drinks (hot & cold).  You can even order a Pizzaville Pizza (special Joyride prices & free delivery) and when it comes we'll call you over the PA system!
DO YOU SELL BIKE PARTS OR DO BIKE REPAIRS?
-Yes and Yes.  We sell a variety of bike parts and accessories for all types of bikes.  Our staff is also on hand to help if you have a mechanical problem – we have a bike shop on location to get you back on your bike and riding the park again!   
ARE THERE CHANGING FACILITES?
-Yes. There are changerooms for both men and women equipped with day-use lockers. Please BRING YOUR OWN LOCK if you would like to secure valuables during the day.
IS THERE STORAGE?
-Yes.  There are day lockers available for you to use in the changerooms (you must bring your own lock and remove it by the end of the day).
-There are shelves available next to the lounge for you to store stuff like lunches. 
-There is FREE bike storage available for those who purchase a 6-month or an annual membership (*monthly payment plan excluded).  You get valet service for one bicycle for the duration of your membership…drop your bike off after a ride, we'll store it in our secure lock-up, and roll it out for you each time you visit.
-We recommend you bring a bike lock if you wish to leave your bike unattended in the racks for long periods of time during the day.
WHAT ELSE IS THERE AT JOYRIDE 150?
-We've got a cozy lounge with free Wi-Fi, toasty fireplaces, and TV screens where you can chill, take a break from the bike and grab a bite.  CLICK HERE