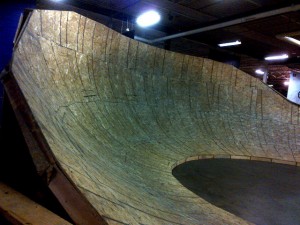 Wanna race the Red Bull Mini Drome?  Practice those high-speed steep cornering skills on the new Joyride pumptrack!
Red Bull Mini-Drome is a unique Fixed Gear Event based on open registration : anyone with a bicycle that fits the requirements can enter the event and have the opportunity to participate in an insane and thrilling bike race that takes place on the World's smallest Velodrome.
Cyclists will take their street skills to the track in a test of mental stamina, technical precision and raw strength. From it's roots across the pond, in England, Red Bull Mini Drome will take it's debut laps in Canada with stops in Montreal QC, Toronto ON, and Vancouver BC.
Red Bull Mini Drome brings skill, speed, balance, and bravado together on a steep and shrunken version, far from the traditional velodrome, to give competitors the most challenging and treacherous ride of their lives.
Visit www.redbull.ca/minidrome for registration. Registrations open on August 13th at 9am. Online registrations are limited to 50 entries.