Online Waiver
Riders AND spectators must complete a Joyride150 waiver before entering the park for the first time. This can now be done online with our NEW ONLINE DIGITAL WAIVER.
If you fill out our digital waiver, you do not need to bring in a paper copy. There are also digital waiver kiosks located within the park.

If the rider/spectator is under the age of 18, they must have their OWN PARENT sign the waiver.
*ADULTS CANNOT SIGN FOR OTHER PEOPLE'S CHILDREN*
The new online digital waiver also allows you to print out a paper copy of the Joyride150 digital waiver for your own records.
top


Digital waiver kiosks at Joyride150
You may also sign the waiver online using the iPads at the front entrance
top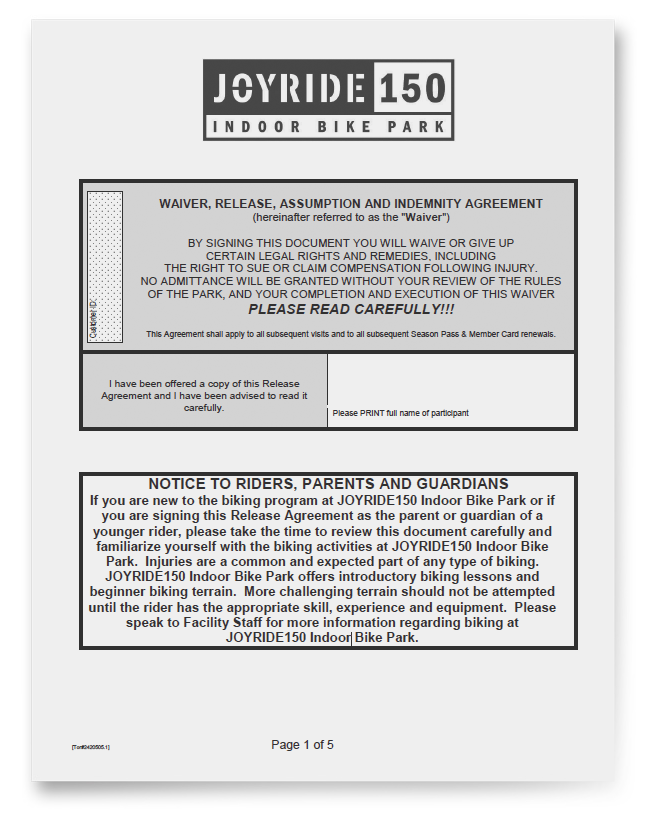 If you require any assistance or additional paper copies of the waiver, please contact the park at:
PHONE: 905-294-1313
FAX: 905-294-1376
E-MAIL: info@joyride150.com