WOMEN'S WEEKEND 2019 – February 2 – 3, 2019


Just to clarify, PARK OPENS AT 8AM, CLINICS ON SATURDAY WILL BEGIN AT 9AM.
  *NOTE* Park will be open to women only 8am to noon on Saturday the 2nd and from 8am to 10am on Sunday the 3rd
12 years of age is the minimum age for registrants
SCHEDULE OF EVENTS:
HOW THE WEEKEND WORKS – Below is the daily schedule.  On Saturday morning from 9-12 we will be running half-hour skills clinics.  What this means is…every half hour there will be a lesson at each of the stations (see below for details on the stations.)  Instructors will provide demonstrations and discuss the proper techniques for each station…and then you can give it a try! The clinics/stations are listed below in no particular order.  You may visit whichever clinics you like, in any order, and participate in as many clinics as you wish.  It is a very relaxed environment so you can spend your time at the park however you like.  If you want to visit a different clinic every half hour – great…if you'd like to focus on one skill in particular all morning – that works too.  Even if you don't feel like hitting any clinics – just come and ride with the girls at your own pace. After lunch we will hold "Open Clinics".  That this means is that there will be no formal lesson but the instructors will be at each station ready to help you, provide feedback, and answer any questions you may have as you practice your newly acquired skills.

SATURDAY, February 2nd
Instruction 9am to Noon (Women Only)
Coaching on Saturday only until 3pm.
SUNDAY, February 3rd
Open to Women only 8am to 10am
Open riding for the rest of the day
top

PRICING:
To qualify for free t-shirt and $50 registration fee must be registered by midnight Sunday January 20th (Cost after midnight January 20th goes up to $55)

*For those new to the park, you will need to fill out a Joyride waiver before riding.  
top 
RENTAL BIKES:
*** If you would like a rental bike, please email info@joyride150.com to reserve one of our rental bikes. ***
We have BMX, Dirt Jump and X-Country bikes available for $20.79/day
(Quantities are limited – book early)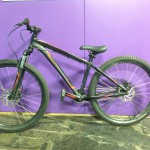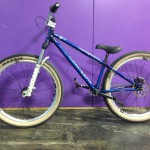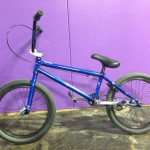 top 
PARKING:
Parking is limited!  Please try to car-pool.  Overflow parking is available in west lot (by the loading dock doors).
top 
FAQ's:
Q: What should I wear? A: There is no dress code!  Wear riding clothes/shoes that are comfortable for you and for your specific bike.  The park will probably be about 15-degrees celcius…so bringing layers is probably a good idea.  Depending on what you are doing at any given time, you may be hot, chilly, or hopefully just right!  One thing you are required to wear though is a helmet.  HELMETS ARE MANDATORY. *Padding (knee/shin, elbow) is another thing you may want to consider wearing if you want to challenge yourself on some of the more technical features.  Padding is also available for rent at the park.
Q: Is there food & drink available? A: Yes.  A catered lunch (Saturday only, 12:00pm-1:00pm) is included with your entry to the women's weekend.  There are also a variety of hot foods, snacks & drinks available for purchase at our concession counter.  There is a water fountain at the park to quench your thirst or fill your water bottle.
Q: I am coming from out of town for the weekend – are there accommodations close by? A: Yes!  Check out our recommended ACCOMMODATIONS HERE.  Don't forget to ask for the Joyride150 Special to get your discount! 
Q: Where do I leave my stuff? A: There are a limited number of lockers in the women's washroom/changeroom area and you must BRING YOUR OWN LOCK if you wish to secure items.  There are also picnic tables & storage shelves in the lounge but we do not recommend leaving valuables such as wallets & cameras unattended in these areas.   *If you bring your own bike, you are more than welcome to bring a bike lock and leave your bike locked to any of the racks in the park over night on Saturday.
Q: What if my bike needs repairs?  Please bring your bike in perfect working order. You don't want to miss out because your bike isn't working properly.
Q: What kind of bike do I need? A: You can bring any type of bike to ride in the park.  Mountain bikes (XC, DJ, All Mountain) and BMX bikes are ideal. If you are unsure – you can always rent one of our park bikes! *If you ride with clipless pedals, it is STRONGLY RECOMMENDED that you bring flat pedals as well for practicing some of the more technical features.  
Q: I'm not a good rider…should I still come? A: ANY LEVEL of rider is welcome at Joyride.  In fact we ENCOURAGE riders of all levels (including complete beginners) to come and improve their bike skills. That is what we built this place for. Not just for the pros, not just for the experienced – for EVERYONE!!! The Women's Weekend is especially designed to help reduce the intimidation factor of riding here. So come, don't be nervous, and ride what you feel comfortable with at your own pace! There is NO PRESSURE to do anything…you can just ride around all weekend if wish. If your question is not answered here, please contact info@joyride150.com and we'll get back to you ASAP.
PARK MAP & CLINICS:


#1 – LEARN TO JOYRIDE:

An introduction to riding at Joyride150 for those who are new to the park and/or mountain biking.
#2 – PUMP TRACKS:

Learn the proper techniques to riding a pump track – no pedalling and a full body workout!
#3 – XC LOOP SKILLS & OBSTACLES:

We'll take you around the cross-country loop and tackle some of the obstacles along the way like log-overs & rock gardens.  All levels welcome – there is something challenging for everyone.
#4 – BIKE MECHANICS:
Want to know how to change a flat out on the trail, how to adjust your levers, or when your chain needs replacing?  We will teach you the basics about bike maintenance & repairs.
#5 – SKINNIES:

Conquer your fear of technical riding with some tricks & tips on the sport skinnies.  Start off on the easy ones and work your way up.  Try it – you may surprise yourself – you can do it!
#6 – JUMP LINES:

Come learn how to jump…(or jump with style).  Whatever your level of skill, we've got the jump line for you.  From a beginner line that is completely rollable for newbies to the expert rythm section – you're guaranteed to have fun!
#7 – FOAM PIT:

Ever wonder what it's like to launch into a giant pit of foam with your bike?  We'll eliminate the intimidation factor of foam-pit flying for you with some simple techniques.
#8 – BUNNY HOPS:
We'll work on the art of bunny hopping – a skill that will take any style of riding to the next level.
#9 – VERT PARK:

Want to learn how to drop in, 180, or hit a spine?  We will show you the basics of street-style riding, one step at a time.
#10 – STREET PLAZA:
Learn how to ride street style in the park's latest addition – the Street Plaza.  Here you'll learn how to master the grind on rails & ledges and trick with style.   top