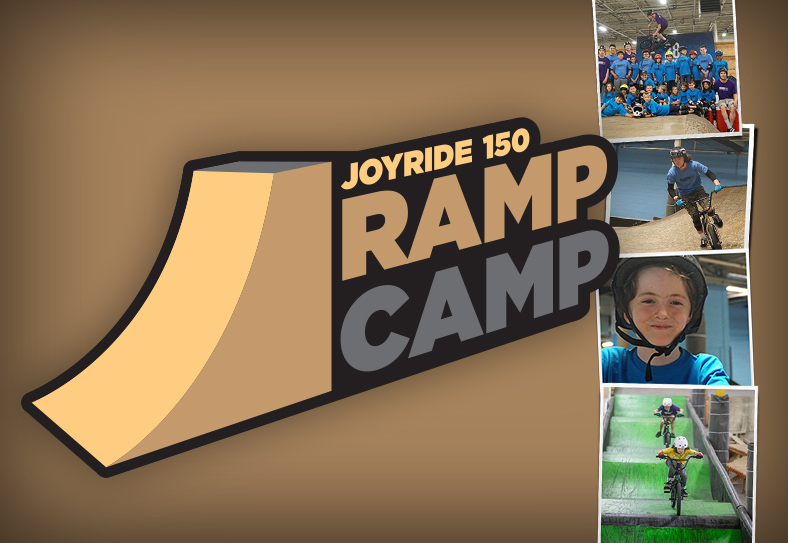 JOYRIDE 150 RAMP CAMP 2022
JOYRIDE150's afterschool RAMP CAMP program is designed to put an emphasis on having fun while building rider confidence and bicycle skill.
Weekly Ramp Camp sessions are designed to challenge riders of all skill levels. Whether they are mastering the rollers, skinnies, pump tracks, learning to jump or progressing toward advanced tricks each rider that comes to Joyride 150 Ramp Camp is going to leave with new skills, friends and of course a smile on their face!
Program Overview
JOYRIDER 1
Our entry-level program; Joyrider 1s will work on beginner bike skills including standing up on the pedals, wheel lifts, pumping, brake control and beginner jumping techniques. Riders will also learn park etiquette and the basics of bike component identification and maintenance. Over this five-week program, riders will be encouraged to build technique on the bike, through lessons and skill-based games. Our instructor's goal is to help build confidence on the bike. By the end of this program, riders will have an understanding of how to stay safe in a bike and skate park environment, through learning bike control and park etiquette.
JOYRIDER 1 programs run on Tuesdays from 5:00 pm – 7:00 pm . This program is recommended for riders 4 and up, who are riding without training wheels.
JOYRIDER 2
The next step in our Ramp Camp Program. Joyrider 2s will work on manuals, jump progression, in air bike control, basic tricks, drop-ins and how to use a BMX race gate. Over 5 weeks riders will be pushed to progress in on tricks, jumping and speed on the pump tracks. Each day will have new lessons to push riders to the next step. This will include tricks, pumping and jumping. Our instructor's goal is to push each rider to learn a new trick, get faster on the pump track, and get to the next difficulty on jumps.
Riders will also learn the basics of bicycle repair while participating in this program.
JOYRIDER 2 programs run on Wednesdays from 6:00 pm – 8:00 pm . This program is recommended for riders up to the age of 15.
All levels of Ramp Camp programming are administered within a monitored and indoor environment. We ask that you pack a water bottle and snack for each session. Knee and Elbow pads are required.
Afterschool Ramp Camp registration is limited.  Our instructors and staff can't wait to meet you!