LESSONS – LEARN TO JOYRIDE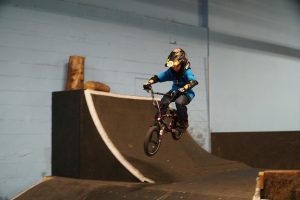 LEARN TO JOYRIDE
Looking to do more than ride around the block? Our Learn to Joyride lessons focus on helping riders move to the next step in their progression.
Learn To Joyride focuses on jumping, dropping in, pumping a transition and park etiquette. All Lessons will start with a skills assessment prior to asking each rider what they would like to accomplish. The instructors will then either help the rider progress toward their individual goals.
In our learn to Joyride sessions all riders will learn:
• Park Etiquette
• The basics of pumping
• Air awareness
More advanced riders also have the option of learning:
• Manuals
• Curb/ledge drops
• Bunny hops
• Dropping in
• Basic grinds
The goal of the Learn To Joyride program is teaching riders new skills they can bring to any terrain.
• Lessons are available Monday – Friday
• Each lesson includes 1 hour of instructed riding time. Additional uninstructed riding time is also available.
• Lessons are $75 for one hour of instruction
• No bike? No problem, rental equipment is available. Please see our pricing page for details.
Please Note: All participants must fill out a Joyride 150 Waiver prior to their first lesson.
Learn To Joyride lessons are recommended for riders 5 and older.
PARTICIPANTS:
Due to varying skill levels, lessons are designed for a single participant only.