LESSONS – LEARN TO JOYRIDE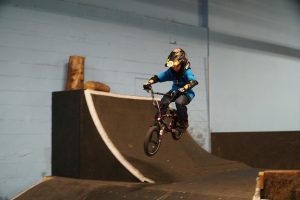 LEARN TO JOYRIDE
Looking to do more than ride around the block? Our Learn to Joyride lessons focus on helping riders move to the next step in their progression.
Learn To Joyride focuses on jumping, dropping in, pumping a transition and park etiquette.
Learn to Joyriders will work on many skills depending on the rider's abilities and interests. These skills include beginner and intermediate jumps. Working on air awareness with the bike. Park etiquette skills to improve safety and fun for all. How to get faster on the pump track. Dropping in on small quarters. As well as bunny hops, Fakies and Manuals. Each lesson is custom-tailored to the rider's needs and abilities. The goal of the Learn To Joyride program is to take a rider from basic riding skills and knowledge to understanding the bike and skate park environment. 
All Lessons will start with a skills assessment prior to asking each rider what they would like to accomplish. The instructors will then either help the rider progress toward their individual goals.
Our instructors can't wait to meet you!!!
• Lessons are available Tuesday – Friday. Tuesday 7:15 – 8:15 pm, Wednesdays 4:00 – 5:00 pm, Thursday and Friday 4:00 – 5:00 pm, 5:30 – 6:30 pm, 7:15 pm – 8:15 pm.
• Each lesson includes 1 hour of instructed riding time. Additional uninstructed riding time is also available.
• Lessons are $75/hr, and are one on one only.
• No bike? No problem, rental equipment is available. Please see our pricing page for details.
Please Note: All participants must fill out a Joyride 150 Waiver prior to their first lesson.
Learn To Joyride lessons are recommended for riders 5 and older.
PARTICIPANTS:
Due to varying skill levels, lessons are designed for a single participant only.
TERMS AND CONDITONS:
A $25 deposit is required for all bookings. There is a 48-hour cancellation policy in effect in which the deposit can be refunded. Lessons cancelled with less than 48-hour notice will be charged in full.
Lessons can be rebooked provided they are done so at least 48 hours before the booked event. Rebooking is dependent on program availability.