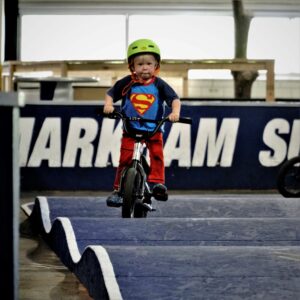 Joyride 150 Learn To Ride lessons are an excellent starting point for someone who is new to riding.
The program is designed to take riders through the basics of balance and pedaling in a fun and progressive manner.
Lessons are taught by experienced instructors who are skilled at working with beginners and ensuring that the learning process is both safe and enjoyable.
• Each lesson includes 1 hour of instructed riding time. A day pass is available before or after a lesson for an additional $15 fee.
• Lessons are $75/hr
• No bike? No problem, rental equipment is available
• Lessons are available Monday – Friday
Please note: Learn To Ride Lessons are only available as one-on-one sessions.
One of the great things about the Joyride 150 Learn to Ride program is that no prior riding experience is necessary. This means that anyone can join the program and start learning the basics of riding a bike. The program is perfect for children and adults alike, and the instructors are trained to work with riders of all ages and skill levels.
The lessons are progressive, which means that each lesson builds upon the previous one. This allows riders to learn at their own pace and ensures that they are always challenged but not overwhelmed.
Our focus is on both fun and progression, so riders can expect to have a great time while also learning the essential skills necessary for riding a bike.
Every Learn to Ride lesson at Joyride 150 includes:
One hour of private instruction
A special day pass rate ($15) to lesson participants
Positive feedback and encouragement
Fun and progression
Please Note: All participants must fill out a Joyride 150 Waiver prior to their first lesson.
Learn To Ride lessons are recommended for riders 5 and older.
PARTICIPANTS:
Due to varying skill levels, learn tor ride lessons are designed for a single participant only.