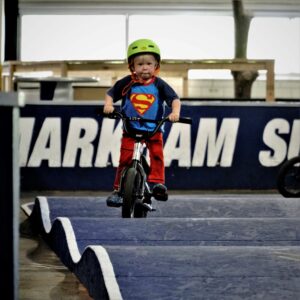 Joyride 150 Learn to ride lessons are progressive and designed to take riders from balancing to pedalling. Lessons focus on both fun and progression, smiles are guaranteed!
• Lessons are available Monday – Friday
• Each lesson includes 1 hour of instructed riding time. A day pass is available before or after a lesson for an additional $15 fee.
• Lessons are $75/hr and are one on one only.
• No bike? No problem, rental equipment is available.
The goal of our learn to ride lessons is to get anyone struggling with riding a bike, to ride comfortably. Whether that be getting someone off training wheels, transitioning from a balance bike or something you've just never learned, we want to get you pedalling. Our instructors are here to support and push you to get riding!
Every Learn to Rode lesson at Joyride 150 includes:
Lessons are available Tuesday – Friday. Tuesdays 7:15 – 8:15, Wednesday 4:00 – 5:00 pm, Thursday and Friday 4:00 – 5:00 pm, 5:30 – 6:30 pm, 7:15 – 8:15 pm
One hour of private instruction
A special day pass rate ($15) to lesson participants
Positive feedback and encouragement
Fun and progression
Please Note: All participants must fill out a Joyride 150 Waiver prior to their first lesson.
Learn To Ride lessons are recommended for riders 5 and older.
PARTICIPANTS:
Due to varying skill levels, lear tor ride lessons are designed for a single participant only.
TERMS AND CONDITONS:
A $25 deposit is required for all bookings. There is a 48-hour cancellation policy in effect in which the deposit can be refunded. Lessons cancelled with less than 48-hour notice will be charged in full.
Lessons can be rebooked provided they are done so at least 48 hours before the booked event. Rebooking is dependent on program availability.