What's at JOYRIDE 150 Indoor Bike Park?
BEGINNER AREA
Our beginner area features low skinnies, rollers, and moderate pump obstacles to test your skills and help you progress
CROSS COUNTRY
An 800m mountain bike trail with elevation (climbs & descents), log-overs, rock gardens & more. This popular feature is sure to get your heart pumping and your legs burning!
The loop also ties into skinny lines. Pop out and get extra technical practice and make your lap 1km long!
PUMP TRACK
Our Beginner, intermediate & advanced tracks are a hit for all level of riders.
They're a full body workout!
JUMP LINES
Beginner, intermediate, advanced & expert lines to help you progressively learn to touch the sky.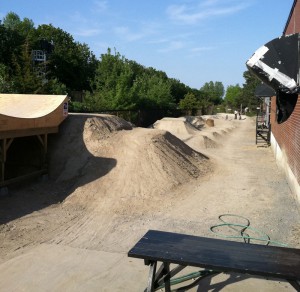 DIRT JUMPS
Our dirt jumps are open in the spring and summer months, weather permitting.
SKINNIES
Our skinnies have a variety of lines and features to help build your balance and confidence over any cross-country obstacle.
FOAM PIT
Beginner, intermediate & expert ramps take-offs are perfect for learning that new trick!
RESI
Learn it in foam then take it to the next level with a matching resi ramp!
PLAZA
A street-inspired area with rails, ledges, steps, & quarters for street-style riding and that all-important progression.
VERT PARK
A BMX-style area with quarter pipes, wall rides, spines, drop-ins, bowls etc. for big air riding.
PARTY ROOMS
Book your birthday party, corporate event, or meeting in our private rental rooms!
Each room is equipped with a private fridge and access to wifi.
top



CONCESSIONS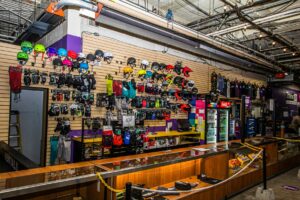 There are concessions available with snacks & drinks (hot & cold). You can even order a Pizzaville Pizza (special Joyride prices & free delivery) and when it comes we'll call you over the PA system so you don't miss a minute of riding time!
top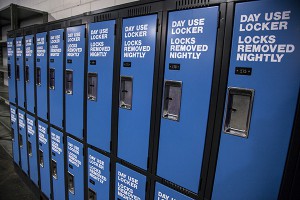 LOCKERS &
CHANGEROOMS
There are day lockers available for you to use in the changerooms (you must bring your own lock and remove it by the end of the day).
There are also shelves available next to the lounge for you to store stuff like lunches.
LOUNGE
We've got a cozy lounge with free Wi-Fi and TV screens where you can chill, take a break from the bike and grab a bite.
STORAGE
There is bike storage available for those who purchase a 6-month or an annual membership (for an additional fee). You get valet service for one bicycle for the duration of your membership…drop your bike off after a ride, and we'll store it in our secure lock-up, and roll it out for you each time you visit.
We recommend you bring a bike lock if you wish to leave your bike unattended in the racks for long periods of time during the day.

SKILL MARKING
There is something for riders of all levels at Joyride 150…from beginners to experts. Sections, trails, lines & jumps will all be marked according to the ski trail system:

Please use good judgment and ride within your skill level.