Looking for a birthday party that's fun for all ages? Parties at Joyride 150 Indoor Bike Park are an exciting and unique experience that you and your guests will never forget!
Our birthday package includes 3 hour use of the party room and a guaranteed full day pass at Joyride 150.
Guests can bring their own bike or use our rental equipment. We have 4 designated time slots (10:30am, 11:30am, 4pm and 6pm) on Saturday and Sunday. Parties on weeknights can be arranged by emailing info@joyride150.com.
Party Room 1: 10:30am – 1:30pm, 3:00pm – 6:00pm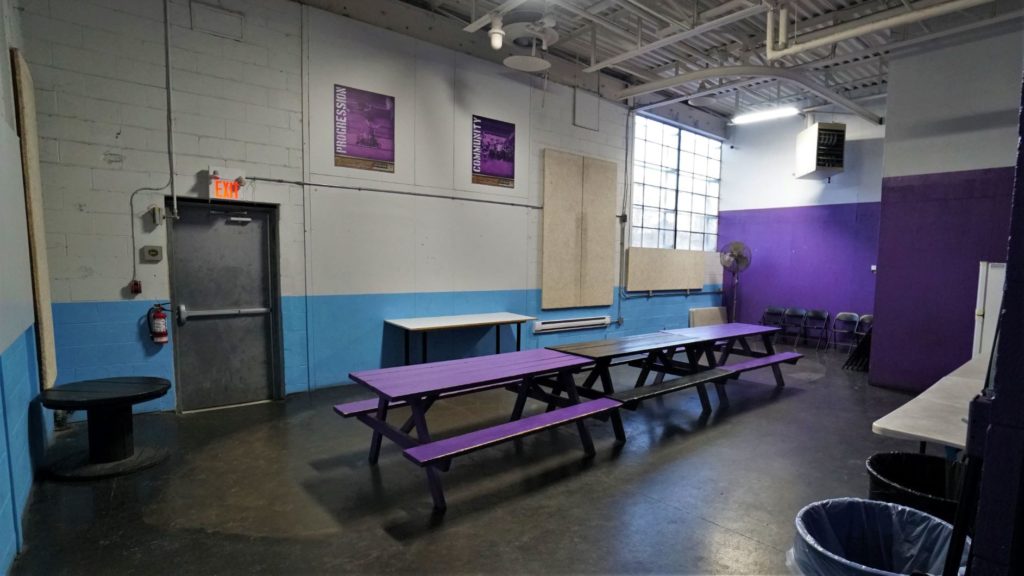 Party Room 2: 11:30am – 2:30pm, 4pm – 7pm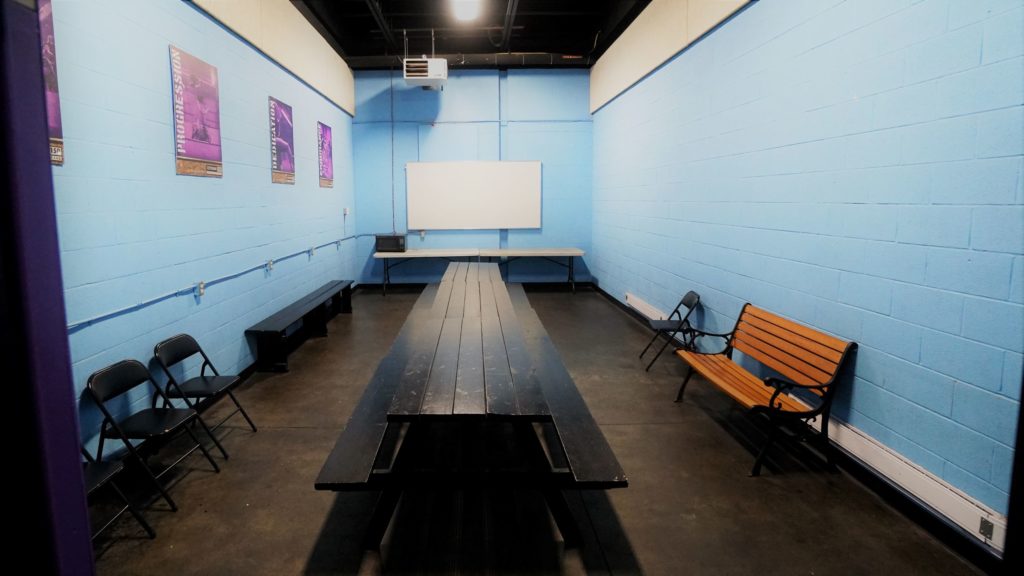 $66.37 to reserve a party room
$30.97 per rider over the age of 7
$17.70  per rider 6 and under
Includes: Reserved day pass, exclusive use of one of our party rooms.
*Please note: Party rooms are limited to 15 people total due to social distancing rules. Please plan accordingly.
At this time we ask that you please limit non riding participants to five or less. Additional non-riding occupants will be charged a day pass as they count against our overall facility capacity.
Payment is made in one transaction
A $66.37 deposit required for party bookings
The maximum number of riders per party group is 15.
Full payment will be required two days prior to event date in order to secure your rider reservation.
Please note: New riders are subject to a $5.31 processing fee for waivers and club cards.

WAIVER
Riders, spectators and party guests must complete a Joyride 150 waiver before entering the park for the first time. If you have filled out a waiver previously for yourself or your child, it DOES Not need to be completed again.
Our waiver is most easily done online. If you fill out our digital waiver, you do not need to bring in a paper copy.
Waivers must be filled out by the child's own parent – OTHER ADULTS CANNOT SIGN FOR SOMEONE ELSE'S CHILD. Click the link below to download the waiver.


BOOK A PARTY
Ready to book a party?  Please see availability below.
There is some flexibility for party time slots on Monday through Thursday evenings. Please call the park 905-294-1313 or email us at events@joyride150.com with any questions.

top

FAQs
Are scooters and skateboards allowed?
Joyride is a bike only facility;  balance, bikes with training wheels, bmx, mountain bike, road, and unicycles are permitted.
Skateboards, scooters, roller skates/blades and one wheels are however not permitted.
Is Joyride 150 suitable for all riders? Yes! Joyride is suitable for all ages and skill levels. We have riders from age one to seventy-one. We have a selection of balance bikes available for those who are not yet riding on two wheels.
The park is marked like a ski resort – green circle for easy, blue square for intermediate features and black diamond and double black diamond for the more difficult areas.


Upon entering, you will see our large beginner/warm-up area. First time riders are recommended to stick to obstacles marked with green circles until they feel comfortable to move on.
The deeper you travel into the park, the more challenging it becomes. We encourage riders to progress as they feel comfortable.
Bike riding can be dangerous – injuries can result. Parties are unsupervised by staff, so please take car to ensure that your guests are riding within their abilities
When can I set up the room?
You can begin setting up your room 15 minutes before your event begins.
Can I bring food?
Of Course! You can bring whatever food you wish to the park. Many people order from Pizzaville 905-947-9610 (free delivery) and we call you on the PA system once it arrives.
Do you have a Fridge Or Freezer For Cakes and Treats?
We do! If you need to store anything for your party please let the front desk know.
Are you nut-free?
No, we are not a nut free facility at this time.
Is my party structured?
We encourage rider's to structure parties anyway you wish. Our recommendation; schedule the food near the end of your party after your guests have tired themselves out.
How can I make sure that the event goes smoothly?
Great question!
Anyone entering the facility for the party must fill out a waiver form (even the parents!) Have the legal guardians of the party goers fill out the online waiver a few days in advance. Make sure to click on the Manage Your Event link in the confirmation email to confirm how many of your guests have signed the waiver before arriving.
Adults may not sign for other people's children.
If you require any assistance during the duration of the party don't hesitate to ask one of the staff at the front desk for assistance.
Please leave the party room in a tidy condition. Failure to do so may result in a $50 cleaning fee.
What are your COVID-19 Regulations?
For a full, up to date, list of our COVID-19 protocol please click here.

For every party, we encourage riders to follow these rules:
Do not ride above your ability
Pay attention to the levels of difficulty
Follow directional arrows, do not go against the flow of traffic
Here are some helpful tips for enjoying the features at the park:
Stand up on your bike
Keep your pedals level when going over obstacles
Hold your handlebar tightly (no spaghetti arms) and BE CONFIDENT
PRINT OUT OUR FREQUENTLY ASKED QUESTIONS SHEET :


***At least one supervising adult must be present for the duration of the party.*** *NOTE* Each child must have their own parent sign their waiver.  The supervising adult CANNOT sign for other people's children.  The waivers can be filled out in advance using our 
ONLINE WAIVER
.
top

INVITATIONS
The invitations below may be filled out and emailed or printed: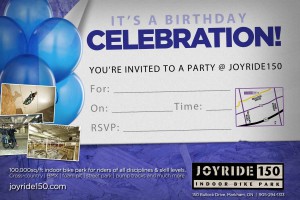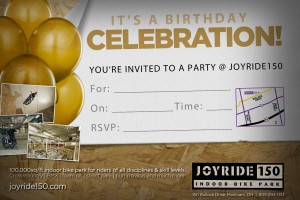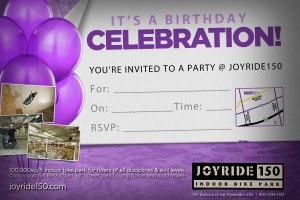 Other Group Options
Please contact us if you are interested in a corporate event or a party with more than 30 riders or something outside the box.

Please note:
If you or members of your birthday party/group have not been to Joyride 150 Indoor Bike Park before, please review our First Time Visitors page that is filled with helpful info on the park for new visitors.
Other Offerings for Children:
Is your child still on a balance bike, not pedaling yet or struggling on the bike? Or would they like to learn some tricks? Joyride 150 offers Private Instruction with one of our fabulous instructors!
Click here for information about our Private Instruction
Learn more about Ramp Camp, our after school program
Learn more about Summer Camps.