Has it been awhile since you've last visited us? Take a look at our most popular features!



BEGINNER AREA
Our beginner area features low skinnies, rollers, and moderate pump obstacles to test your skills and help you progress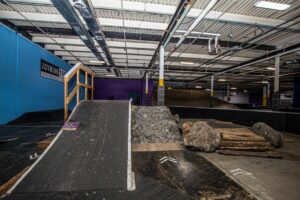 CROSS COUNTRY
An 800m mountain bike trail with elevation (climbs & descents), log-overs, rock gardens & more. This popular feature is sure to get your heart pumping and your legs burning!
The loop also ties in to skinny lines. Pop out and get extra technical practice and make your lap 1km long!

PUMP TRACK
Our Beginner, intermediate & advanced tracks are a hit for all level of riders.
They're a full body workout!

JUMP LINES
Beginner, intermediate, advanced & expert lines to help you progressively learn to touch the sky.
DIRT JUMPS
Our dirt jump are open in the spring and summer months, weather permitting.

SKINNIES
Our skinnies have a variety of lines and features to help build your balance and confidence over any cross country obstacle.
FOAM PIT
Beginner, intermediate & expert ramps take offs are perfect to learn that new trick!

RESI
Learn it in foam then take it to the next level with a matching resi ramp!

STREET PLAZA
A street-inspired area with rails, ledges, steps, & quarters for street-style riding and that all important progression.

VERT PARK
A BMX-style area with quarter pipes, wall rides, spines, drop-ins, bowls etc. for big air riding.
PARTY ROOMS
Book your birthday party, corporate event, or meeting in our private rental rooms!
Each room is equipped with a private fridge and access to wifi.