LESSONS – ADVANCED BMX RACING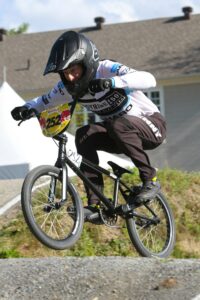 Is there a BMX rider in your family that's looking toward the local podium and beyond? Our advanced racing program is where they need to be!
Taught by NCCP High performance BMX cycling coach Brendan Arnold the 4 week BMX race program goes over gates, pumping, jumping and manuals. Brendan has been involved in the sport of BMX for 37 years and has coached multiple National Champions and World Plate holders.
Each 1 hour class focuses on skill building and progression specifically in the realm of BMX racing.
• Lessons are available Wednesday 4:00pm – 5:00pm, 5:30pm – 6:30pm, and 7:15pm – 8:15pm
• The program includes a full day pass every Wednesday in addition to 1 hour of instructed riding time with coach Brendan Arnold
• The advanced race program costs $409.00 + HST for the four week engagement.
Every lesson at Joyride 150 includes:
One hour of private instruction
Access to Joyride 150 bike park
Positive feedback and encouragement
Fun and progression
Please Note: Due to COVID-19 regulations masks must be worn at all times during instructed riding and all entrants over the age of 12 must show proof of vaccination. All participants must fill out a Joyride 150 Waiver prior to their first lesson.
Advanced BMX Racing Lessons can be booked below: