TEAM BUILDING & CORPORATE EVENTS


Looking for a memorable and unique team building/corporate event?
Join us for a day that you won't forget at Joyride 150 Indoor Bike Park! Overcome your fears, learn new skills, gain confidence, encourage each other and have fun with your fellow employees. With the guidance of one of our talented instructors, your group will be guided through our entire 100,000+ square foot facility and be taught new bike handling skills and progress to more challenging features and maybe even jump into the foam pit!
REVIEWS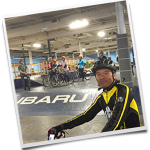 Howard Chang, President CEO | Top Drawer Creative Inc.
"The instructor at Joyride150 helped our very nervous staff get comfortable and confident in a progressive and supportive way. Even newbies developed some mad skills and all jumped their bikes into the foam pit at the end of the session!"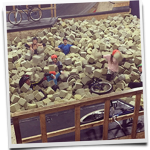 Julien Papon – Founder, President & CEO | Vitess Bicycle Corporation
"Joyride150 is the ideal setting to host social club events, client
appreciation and corporate team building sessions. Vitess has been leveraging the JR150 infrastructure and the team there to deliver second-to-none experiences to our Vitess Riders – perfectly marrying bike handling skills training and immense fun. We also hosted team building sessions for our staff – what better way than learning how to flawlessly handle the pump track without pedaling to
illustrate the "less is more" principle; or the relative safety of the foam pit to push one's comfort zone!"
PRICING
Cost per person: $60
(Includes complete bike rental package and instruction – Duration: 3-4hrs)