BIKES AND BREWS ADULT JUMP CLINIC
JOYRIDE 150 Bikes and Brews Adult Jump Clinic
Having a hard time progressing through one of our jump lines? A little too shy to ask that young shredder for help?
Well look no further, Joyride 150 Bikes and Brews Adult Jump Clinics are here!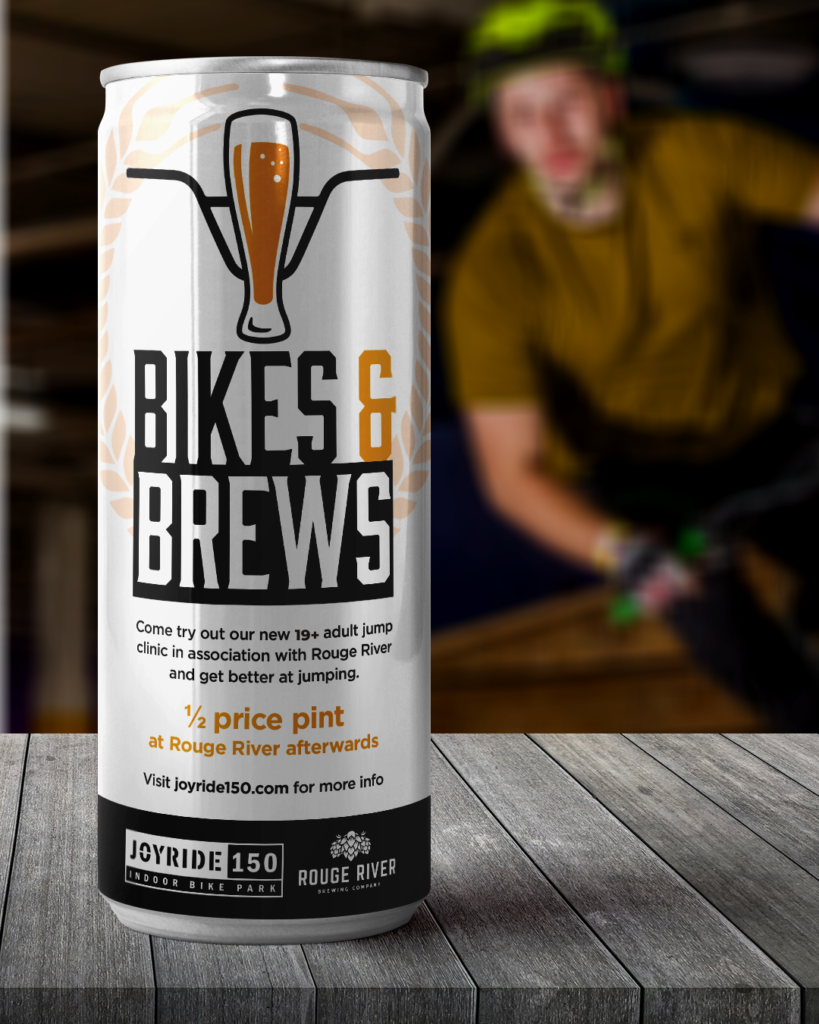 JOYRIDE 150 has officially partnered with Rouge River Brewing Company to offer a truly unique biking experience.
Each 2 Hour clinic at JOYRIDE 150 will end with an invitation to Rouge River Brewing Company. Clinic members will be given a coupon for half off on their first beer at Rouge River on Friday nights.
The JOYRIDE 150 Bikes and Brews class is an adult-only class with a focus on jumping-specific bike control skills.
This four-week program is a mix of planned lessons and group riding. All participants are guaranteed to have fun while learning to be better jumpers.
Our instructor's goal is to help you tackle your next jumping challenge. The fundamental jumping skills thought in this program are transferable to any size obstacle.
Lessons will cover:
Pumping
In air bike control
Jumping higher and farther
Jumping in style
Riders will leave with
New friends
Jumping confidence
A sense of accomplishment
A good workout
An invitation to Rouge River Brewing Company including a 1/2 price first pint!
Don't have a bike for jumping? Don't worry we rent BMX and Dirt Jumpers.
Thanks for your interest in our Bikes & Brews program. The program is currently over for the season and will be back in the fall. Thanks!
What Is Rouge River?
Rouge River Brewing Company is a small craft brewery in the city of Markham focused on hop-forward and sour ales.</p
They are located just down the street from Joyride 150 at 50 Bullock Drive #8, Markham, ON.
Joyride 150 is excited to partner with a local business in this initiative. We ask that all riders please drink responsibly and never drink and drive.
Understanding the Jump Lines
JOYRIDE 150 has four jump lines that offer something for everyone.