LESSONS – TWO WEEK LEARN TO JOYRIDE PROGRAM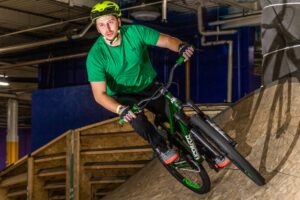 Looking to double your fun? Try one of our two week programs. These grouped lessons allow you to reserve two lessons and save money over booking individually!
Our two week lesson programs are available in both Learn To Ride and Learn To Joyride proficiencies allowing you to choose which lesson is best for the riders in your family.
'Learn To Joyride' lessons are designed to introduce new riders to the world of jumps, berms, quarter pipes and ledges.
• Program bookings are available Monday – Friday via the widget below
• Each session includes 1 hour of instructed riding time. A day pass is available before or after a lesson for an additional $15 fee
• The cost to enroll is $140 for two weeks of lessons
• No bike? No problem, rental equipment is available
TERMS AND CONDITONS:
There is a 10 day cancellation policy. Program bookings must be cancelled 10 days prior to the FIRST session of the program.
Bookings can also be moved provided we have the availability. Bookings must also be moved 10 days prior to the FIRST session of the program.
Learn To Joyride Ride program bookings cannot be transferred to any other Joyride 150 goods products or services.